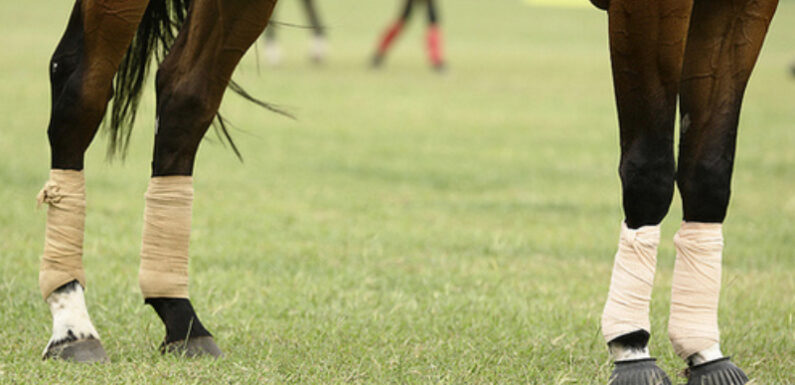 Leg protection: Why is it necessary?
Race horses are not only running at top speed, but they are also carrying weight at the same time. Try doing the same and you will understand why horses require adequate leg protection. Protective gear prevents tendon and muscle strains when the horse is on a routine run. Leg boots decrease the risk of internal injuries and swelling after a training session. Equines are highly prone to injuring themselves on rocks or debris, and the only way to prevent such injuries is with leg protection. Let's take a look at the different leg protection options and their caring tips.
Leg protection options to choose from
Because leg protection is so important, horse owners have multiple options to choose from. From normal bandage wraps to sports medicine boots, each option comes with its own pros and cons.
Brushing boots
Lined with sheepskin or other shock-absorbing materials, brushing boots are worn on the front legs to protect the horse from hitting itself. These boots are specifically worn to protect the splint bones and structures of the front leg. Brush boots are popular among endurance riders, dressage, and eventers.
Open front boots
These boots are intentionally left open in the front so that the horse can feel when it hits a rail and prevent itself from repeating the mistake. Open front boots protect the tendons and major ligaments in the front legs and are mostly worn by jumper exhibitors and hunters.
Polo wraps
Polo wraps are thick, fleecy wraps that are used primarily over the front cannon bone and fetlock joints. These wraps are a good option for horses that are allergic to neoprene and it is also quite affordable than most leg protective gear. Although polo wraps can protect against bumps and abrasions, they also provide heat, which can have adverse effects on the horse's legs.
Skid boots
These boots are designed to cover the hind fetlocks and prevent them from coming in contact with the ground when the horse skids while performing a fast turn or a stop. Skid boots are popular in the cutting and reining disciplines, but they are also on horses to tend to hyperflex on mud surfaces.
Ankle boots
As per the name, ankle boots are worn on the back legs to protect the fetlock and pasterns. They also protect the sesamoid bones particularly during jumping and faster gaits.
Sports medicine boots
Made from neoprene, these boots are designed to cover the entire leg from the pastern to below the knee. Sports medicine boots are multi-functional:
They absorb impact and shock as the horse moves on the ground.
They provided added comfort.
They protect the lower limb injury by providing interference protection.
They can be worn on all four legs when the horse has a particularly busy schedule.
Sports medicine boots are also used for rehabilitation from injury.
Shipping boots
These boots are custom-made with Velcro straps and worn on all four legs for added protection when the horse has to travel for a distance. It is designed with the intention to protect the legs if the horses are standing too close to each other inside a trailer. Prolonged use of shipping boots can actually do more damage than good because these boots can work up a heat that can be hazardous to the legs.
Taking extra care with leg protection gear
Wrapping bandages around a horse's leg is a job for the experts. Tightly wrapped bandages will cut off blood circulation and cause tissue damage. Loose wrappings can cause the animal to trip and fall. It is better to get your horse's boots customized to fit his size to ensure they fit perfectly. Boots must be cleaned, air-dried, and checked for any debris that could be sticking to the parts. Dirty boots will cause fungus that can easily spread from one horse to another.